In order to prevent the spread of COVID-19 among its beneficiaries, the School Feeding Project, a project by ADPP Mozambique and Planet Aid, distributed hand-washing soap to about 3 thousand volunteers, mostly parents and guardians of the students who benefit from the project.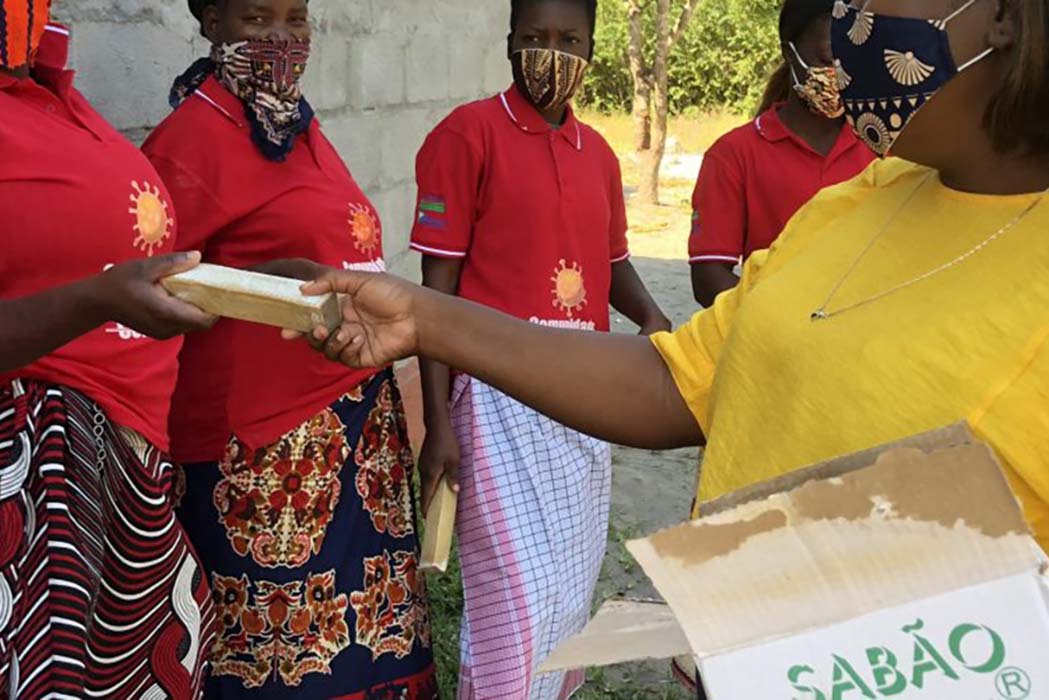 This is an awareness-raising campaign that emerges as part of the strengthening of prevention measures for the new coronavirus. This campaign is carried out by the professionals of the School Feeding Project, who, in addition to distributing soap bars, have disseminated messages on how to prevent the disease, and have also distributed t-shirts and pamphlets related to COVID-19 prevention.
Victoria Samuel, a volunteer of the Project, mother of two children who study at the Chibututuine School, was very happy to learn how to prevent herself from the new coronavirus and to receive soap that will help to sanitize his family.
"We thank ADPP and Planet Aid for being with us at this very difficult time. With this soap we received today my family and I will always wash our hands so that we don't get the new coronavirus" – said Victoria.
Another volunteer who also received soap and guidance on how to prevent from COVID-19 is Marta Mboa.
"We always heard that we have to prevent ourselves from COVID-19 by washing our hands with water and soap or ash, today we received from ADPP T-shirts and Soap that will help us prevent this very dangerous disease that does not choose men, women or children". – said Marta Boa.
Meanwhile, Fátima Mavunga, Pedagogical Director of the Chibututuine Primary School, called the population to make the best use of the soap received, to stay at home and adopt the prevention methods learned from the professionals of the ADPP School Feeding project.
Professor Alexandrina Francelina Conjo, who has been working in the education sector for 16 years, reaffirms that she has never seen anything like it, that in this period when the country and the world are plagued by the new coronavirus, all help is welcome, especially at a time when the survival of humanity depends on washing our hands.
"ADPP's School Feeding Project is making a positive contribution with its actions to mitigate the effects of this pandemic by teaching volunteers the different forms of prevention and giving soap to them and their families to wash their hands" – she said.
For Marcelina Muchanga, District Project Leader in Manhiça, the COVID-19 pandemic has posed incalculable challenges as far as project implementation is concerned.
"The new coronavirus found everyone by surprise, but the project knew at the right time to reinvent itself to face this pandemic, all collaborators are now in the field to help communities to prevent this disease. Although the students are now at home, the project continues to support the schools" – she explained.
With 97,775 direct beneficiaries of which 88,100 are students from 271 primary schools, this project is implemented by ADPP Mozambique and Planet Aid in partnership with the Ministry of Education and Human Development (MINEDH), under funding from the United States Department of Agriculture, in four districts of Maputo Province, namely Manhiça, Moamba, Matutuíne and Magude.