ISET - One World
ISET – One World was established to train teachers and in 2005 got recognized as an independent institution of higher education.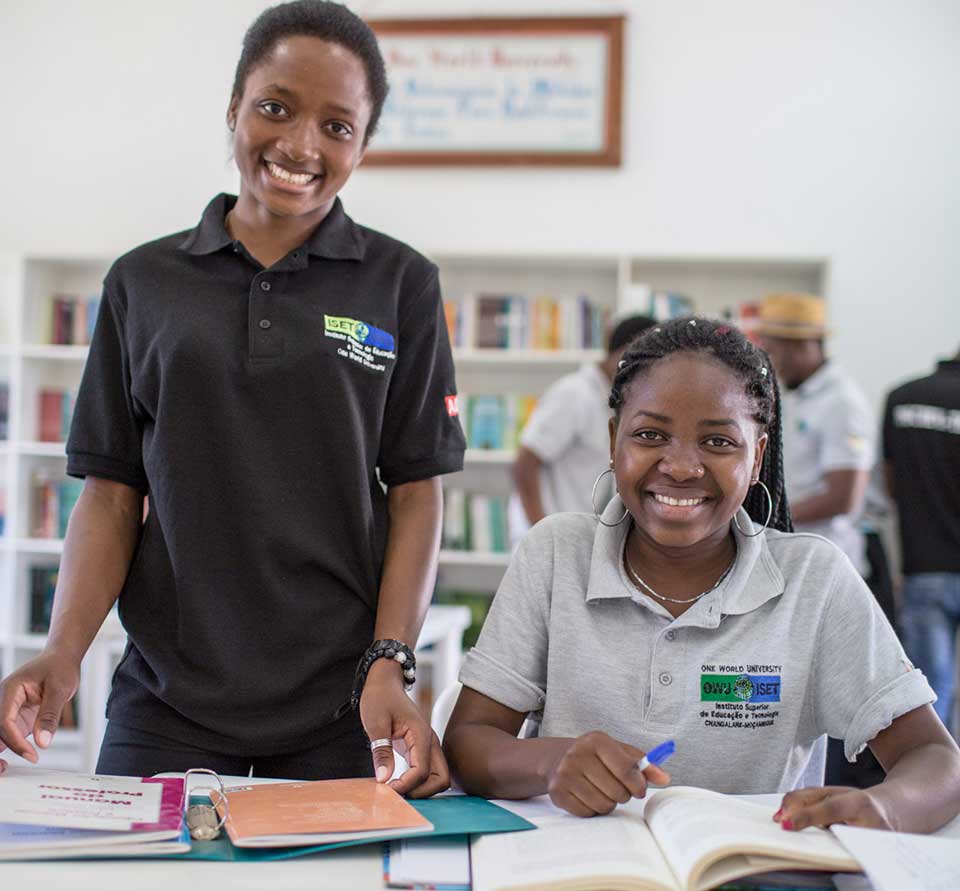 The institute offers degrees in Pedagogy and Social Science through face-to-face and distance learning.
The extraordinary life and learning at the institute in its rural setting in Changalane district, is established first by the organizational structure of the student's life where the core group consisting of 10-15 students including their teacher becomes the vessel from where reality is investigated and acted upon. A manifold of programme elements place the student in the middle of a vibrant reality where the centre pieces of learning many times place the student outside the comfort zone of normal educational perceptions of learning.
Full name of the Project: "Instituto Superior de Educação e Tecnologia", ISET - One World
Principal Partners: Ministry for Science, Technology & Higher Education, Planet Aid with funds from USDA
Other partners: Humana People to People member associations: Finland, Italy, Lithuania, Spain and USA
Location: Maputo province
Teacher Training Colleges Of The Future - EPFs
ADPP Mozambique has trained primary school teachers since 1993. ADPP's Teacher Training Colleges, also known as Schools for "Teachers of the Future", are found in all 11 provinces of Mozambique.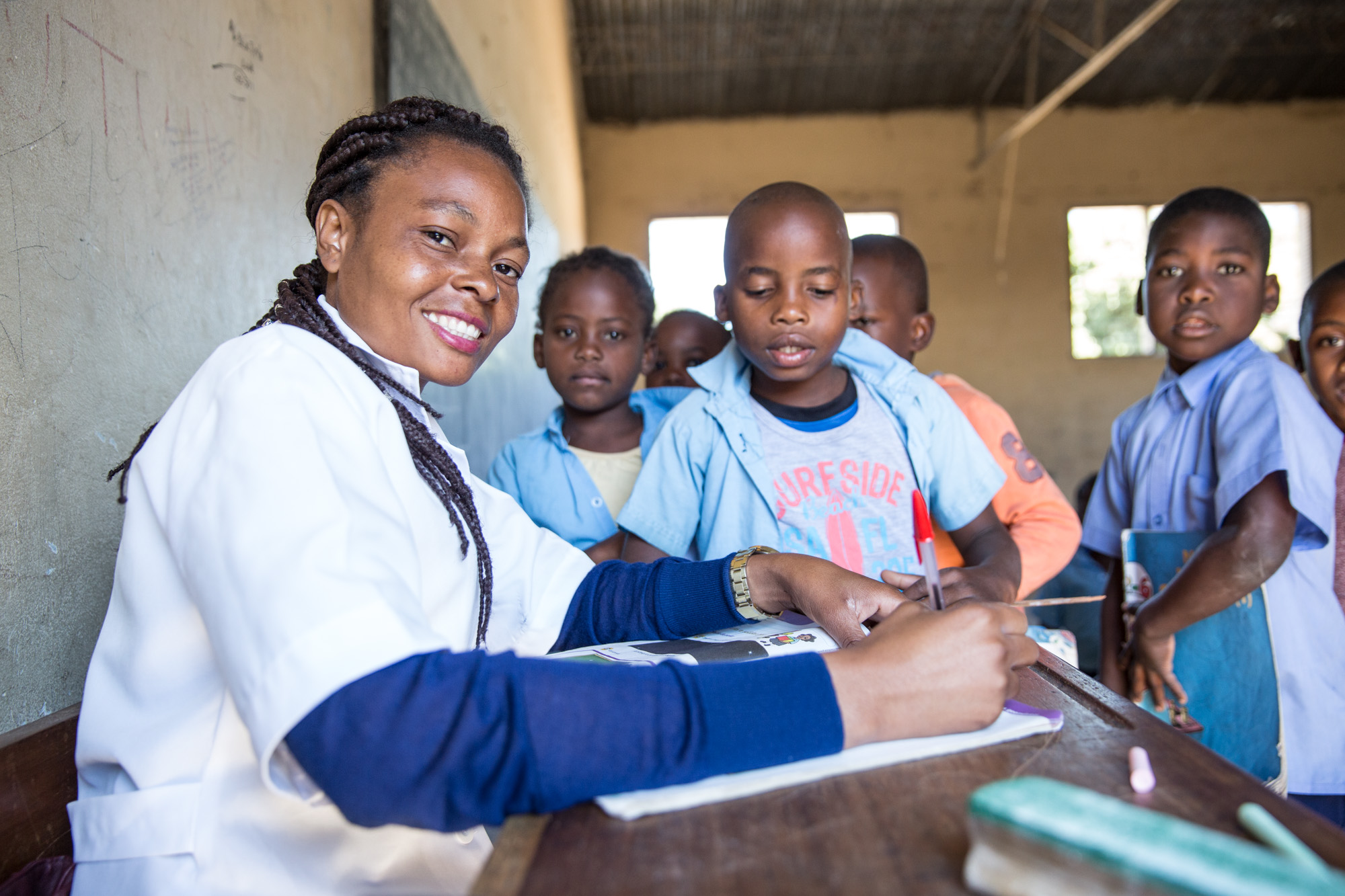 The colleges were established as a contribution to the Mozambican Government's effort to improve the quality of primary education in the country. In 2021 ADPP's had graduated a total of teachers 23,451.
ADPP Teacher Training Colleges are unique because they respond to the realities of rural communities. The holistic programmes address the local economic, social and cultural factors, creating a bridge between schools and communities, teachers and students and students and schools management.
To ensure that the students excel, the colleges use inclusive, innovative and participatory methodologies. The teacher training course allows the students to be at the center stage of their education and training, as drivers of their own learning.
Full name of the Project: Teacher Training Colleges of The Future "Escola de Professores do Futuro" (EPFs).
Principal Partner: Ministry of Education and Human Development
Other partners: Planet Aid with funds from USDA, Humana People to People member associations: Austria, Finland, Italy, Lithuania, Norway, Spain and USA
Location: All provinces
Graduated Teachers' Network
The Graduate Teachers' Network aims to give continuous support and promote further professional development for teachers after they graduate. Through this initiative ADPP contributes to a higher quality primary education in Mozambique.
In 2019, the network reached out to more than 1,669 primary school teachers and influenced nearly 125,000 pupils in primary schools with child centered, gender sensitive quality education practices.
The network uses a variety of methods to share knowledge and skills. It also promotes reading and writing clubs in the primary schools to develop a culture of reading, as well as to improve children's reading and writing skills. Members of the network have also produced teaching aides together, constructed classrooms and started school's vegetable gardens.
Vocational Schools
Despite the impressive progress since the independence, the level of academic and vocational training in Mozambique remains low. In response to these challenges ADPP runs 3 Vocational Training centres in north, central and south of Mozambique.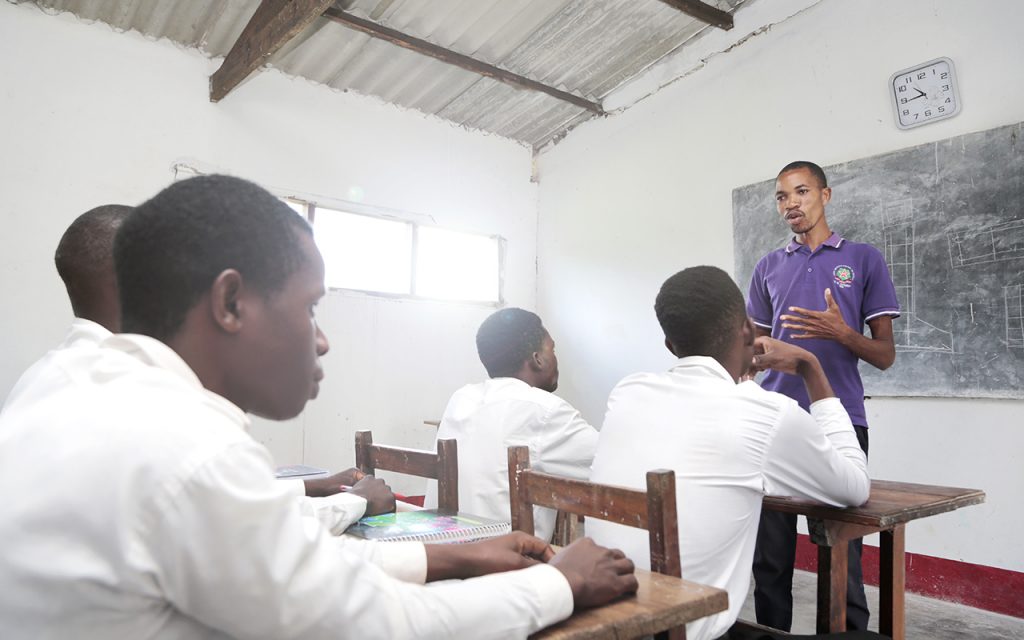 Each school provides girls and boys, especially adolescent and youth with the necessary technical skills to increase their opportunities to enter the local labor market as employees or through their own income generation activities. The schools are offering programs in the areas of agriculture and livestock, civil construction, business administration, hospitality and tourism and community development.
Each of the schools also take the role of community centers for development of competences offering short courses for vulnerable and out of school unemployed youths.
Since their establishment more than 7,200 students have graduated from the different courses, while the same schools have over the last decade offered short courses for approximately 8,000 youths.
Full name of the Project: "Instituto Politécnico de Nhamatanda", "Instituto Politécnico de Nacala"
Principal Partner: State Secretariat for Technical and Professional Education
Other partners: Municipality of Baden, Austria, Humana People to People member associations: Austria, Italy
Location: Sofala and Nampula province
Community Schools
ADPP is committed to improving and promoting equitable access to primary and secondary education.
ADPP runs two primary schools, the "Ants of the Future" school in Chimoio, Manica province, and the "Children's Town" in Maputo City. Both schools provide education and shelter for orphans and vulnerable children.
ADPP believes that important life skills are learnt beyond the school curriculum. As a result, in addition to the national primary school curriculum, the schools conduct a range of extracurricular activities. As well as helping to identify and nurture children's talents, these extracurricular activities equip these children with several vital life skills such as teamwork, networking, leadership, and decision making.
ADPP also runs two secondary schools, "No Caminho da Vitória" and "Patrice Lumumba", in Maputo province. Over 2,000 children and young people attend these four schools annually, some of whom might not have had a chance of going to secondary school.
Full name of the Project: "Formigas do Futuro", Chimoio, "Cidadela das Crianças", Maputo, "Escola Secundária No Caminho da Vitoria", Maputo
Principal Partners: Ministry of Education and Human Development, Ministry of Women and Social Welfare
Other partners: City of Vienna, Commonwealth of Learning, Humana People to People member associations: Italy, Lithuania, Portugal.
Location: Manica and Maputo province and Maputo city.
70 Pre-Schools (ended in 2019)
During the early years of life, children need a supportive learning environment. This includes access to adequate healthcare, nutritious food, and a stimulating environment to support cognitive development.
One of the major challenge in achieving good results in primary education in Mozambique is the widespread absence of pre-school education and inability to speak Portuguese.
To address this, ADPP has implemented a pilot programme called "70 Pre-Schools" with the aim of promoting pre-primary education in 70 communities in Maputo province.
The project began in 2014 and ended in 2019 and benefitted 4,665 children, 980 parents and 770 members of Community Coordination Committees (CCCs)*. 70 pre-schools have been constructed and 280 facilitators have been trained. It has been shown that children who attend the 70 pre-schools learn faster than those who did not attend.
Promoting Inclusive Education
This project, funded by Light for the World, aims to promote inclusive education in Sofala and Manica provinces by strengthening the capacities of teachers in inclusive education, establishing a Resource Centre specialized in inclusive education and by strengthening inclusive education in Chimoio, through cooperation between the Teacher Training Colleges in Chimoio and Nhamatanda.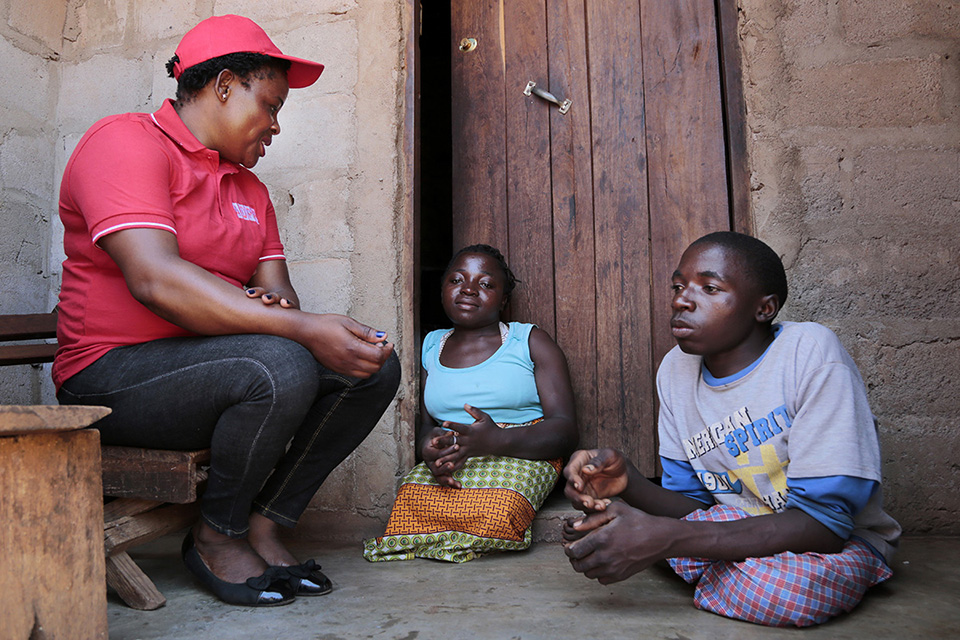 The Project has made great strides in promoting understanding of the concept of inclusive education and in increasing respect for the rights of people with disabilities.
In 2019, the trainings, the Braille clubs and field trips, benefited trainee teachers and 4 Teacher Trainers with new skills, practices, better attitudes and inspiration for inclusive education and for working with people with disabilities. Some of the new skills were reading in Braille, community-based rehabilitation, the development of didactic materials on disability, as well as how to deliver disability-sensitive pedagogy.
Full name of the Project: Promoting Inclusive Education
Principal Partners: Light for the World
Location: Sofala, Manica provinces
Food For Knowledge
ADPP implemented this project in Maputo province, covering the districts of Manhiça, Matutuine, Moamba and Magude. The project direct benefits almost 90,000 children through interventions in 7 programme areas, namely: School Feeding, Literacy, School Gardens and School Farms, Water and Sanitation, Nutrition Education, Construction and Extra-Curricular Activities.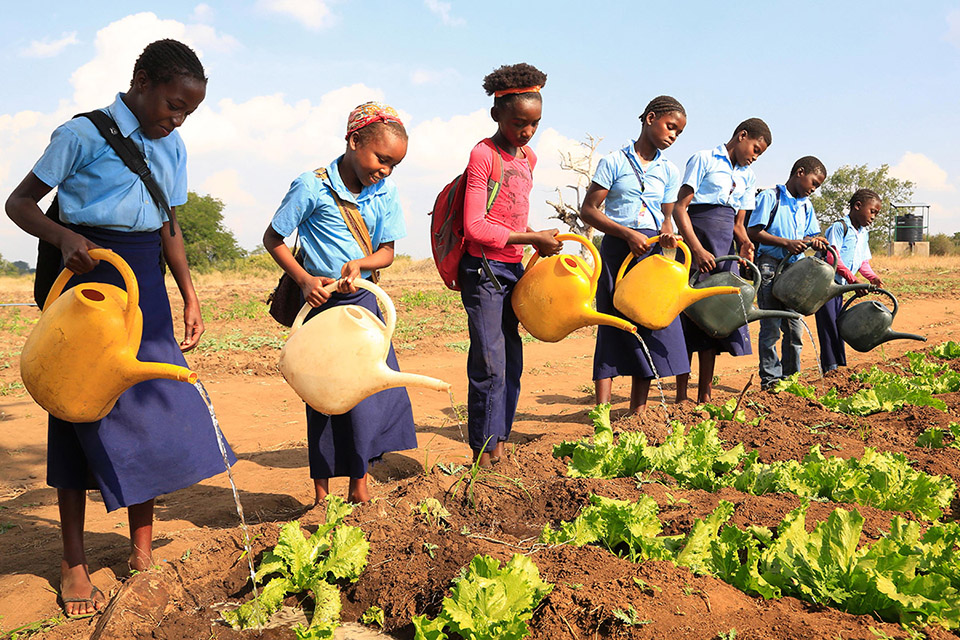 School feeding is at the heart of the FFK project, and a critical aspect of the program, which aims, among others, to improving school attendance.
FFK also trained primary school teachers on methods of teaching literacy in local languages. Students participating in local language instruction performed significantly better when to those receiving only Portuguese instruction.
To date, the project has also successfully facilitated access to drinking water sources for all the 271 schools.
The project provided nutrition education to teachers, volunteers and students, which allowed the transfer of knowledge to students and communities, thus expanding the results of the project.
Full name of the Project: School Feeding Project through The McGovern-Dole International Food for Education And child Nutrition Programme under Planet Aid Inc.
Principal Partners: Planet Aid with funding from USDA
Implementing partners: Cambridge Education, WISHH (World Initiative for Soy in Human Health)
Other partners: Ministry of Education and Human Development, Humana People to People member associations: Lithuania, Spain
Location: Maputo province
Mapunziro Improving education quality and inclusion in primary schools
Mapunziro means education – wisdom in local Chichewa language.
This project aims to improve the quality of primary education in Zambézia, as well as students' educational performance in 14 primary schools in the districts of Milange, Molumbo and Morrumbala.
Initiated in 2019, the project is based on the ADPP Graduate Teachers Network and has 4 central aims:
Improving school management practices in the target schools
Improving of teachers' pedagogical performance and gender response in target schools
Training students in target schools in actively speaking for themselves
Increasing community commitment to the principle of universal education for all, with an emphasis on the participation of girls.
In 2019, it trained 32 teachers in inclusive education, 168 school council representatives in school governance and established 14 sports and cultural clubs with the participation of 560 children. It also established 14 reading clubs to build 280 pupils' competency in reading.
Full name of the Project: Improving Teaching Quality and Inclusion in Primary Schools
Principal Partners: Ministry of Foreign Affairs Finland, UFF Finland
Location: Zambezia province
Apoiar a Ler
This project's objective is to improve the quality of education and learning outcomes of over 300,000 children in 12 districts of Nampula province.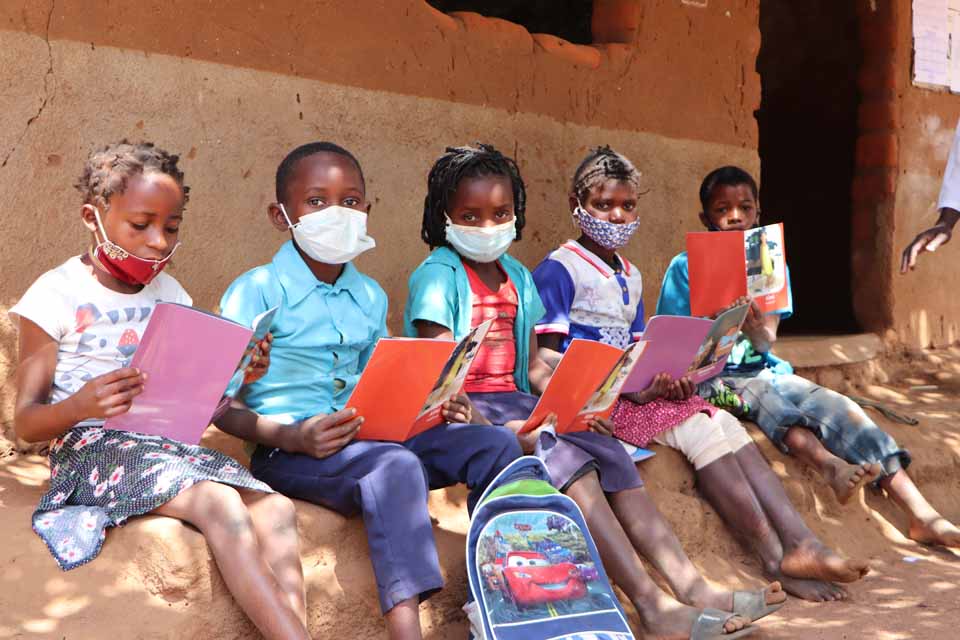 This will be achieved through:
Raising parents / care givers and community awareness on the importance of local languages in reading, writing and mathematics in the first grades while also addressing gender inequality in education, and gender-based violence like early marriage at school and family levels;
Strengthening school councils' role in holding teachers and school managers accountable for improved service delivery for improvements in reading instruction, reduction rates of teacher absenteeism, drop-out rates and increase girls' attendance;
Mobilising community members to serve as Learning Passionates as change makers to mobilise and equip parents/educators and communities with tools and practical skills to become more involved in their children's learning
Providing local government with tools to better monitor and improve existing education systems, thereby accelerating results, enhancing impact and sustainability
The project "Apoiar a Ler" uses the think-cell tool that allows you to quickly develop professional looking presentations using PowerPoint. think-cell is free to the non-profit organisation and takes only a few minutes to learn, 70% less time to create graphics and 90% less time to make changes. If you would like to learn more about think-cell, visit the link https://www.think-cell.com

Full name of the Project: "Apoiar a Ler", Community Engagement in Bilingual Education Nampula)
Principal Partner: USAID
Implementing partners: APRODER, h2n, Rovuma University
Location: Nampula province
Integrated Education Project in the Paquitequete Community in Pemba, Cabo Delgado
The intervention aims to ensure long-term quality educational and professional training for children and young people, in order to contribute to ensuring that all girls and boys in Paquitequete complete an equitable and quality primary and secondary education, leading their social and personal development.
It is expected that the project will improve school/learning performance of children, increase inclusive access to primary education and increase community awareness on the importance and sense of responsibility on multiple basic topics such as education, sports, environment, health & hygiene, gender rights, among others.
Full name of the Project: Integrated Education Project in the Paquitequete Community in Pemba, Cabo Delgado
Principal Partner: ENI Rovuma Basin B.V
Location: Cabo Delgado province
Holistic and integrated approach to Education in Palma District, Cabo Delgado
The project is a plan B aimed to contribute to a safe re-opening of 11 target schools in Palma as a counteraction to the adversities caused by the COVID–19 pandemic which closed all educational establishments countrywide.
Accordingly, the project will improve conditions for a safe re-opening of 11 schools in Palma-Sede, aligned with Decree 21/2020 which states that schools reopening is conditional to the creation of appropriate conditions. This will have a direct positive impact on the opportunity for children to return to school.
In collaboration with SDEJT, the project has designed 4 major activities that can be categorized under the umbrella of creating conditions for reopening schools safely. These are: 1) sanitation and hygiene (install water conditions and tip-taps, construct latrines, and provide hygiene materials); 2) awareness activities (Raising awareness to teachers, parents and guardians), 3) equipping schools for extra-curricular activities and recovering schools infrastructure.
In parallel, we are also doing literacy and numeracy classes for parents and community members; including basic financial literacy contents will be organized at schools.
Full name of the Project: Holistic and Integrated Approach to Education in Palma District, Cabo Delgado
Principal Partner: ExxonMobil Moçambique, Limitada
Other partners: Humana People to People member associations: Finland
Location: Cabo Delgado province
Graduate network CD (DAI)
The objective of the project is to empower 41 EPF Cabo Delgado graduates (most of whom are displaced) in strengthening community resilience at local level and enable vulnerable youth to resist extremism in Cabo Delgado Province.
It aims to develop an online platform to facilitate further training and tutoring of Graduates in peace education, conduction of community dialogues and focus groups, COVID19 prevention.
The graduates will conduct a rapid needs assessment conducted in target communities by graduates to inform the Phase II project.
The project's activities include: creating a network of peers among graduates, developing a diagnostic tool to implement rapid assessment of needs in communities and finally conduct a diagnosis and produce recommendations for Phase II.
Full name of the Project: Teachers Graduate Network for Community Resilience
Principal Partner: DAI Global
Location: Cabo Delgado province